Day of the Week
Hours
Mon

9:00 AM

-

9:00 PM

Tue

9:00 AM

-

9:00 PM

Wed

9:00 AM

-

9:00 PM

Thu

9:00 AM

-

9:00 PM

Fri

9:00 AM

-

9:00 PM

Sat

9:00 AM

-

6:00 PM

Sun
Closed
Really great massage therapist. Very professional staff. Cleanliness.

This was my first massage ever. It felt good however when I woke up this morning I was bruised in my shoulder blade areas from the massage and extremely sore. Pictures taken.

Bre was very helpful she explain the type of massage I needed due to my Sciatic nerve problem.I enjoyed she was informative she explain before she began each exercise. I will be coming back and referring others she hada very positive attitude. I felt a 100 better when I left. Great job Bre

Tameika was AMAZING. This was my first deep tissue massage and she made it very enjoyable. She was professional and very skilled. Cant wait to book another appointment with her

The massage was fantastic The professionalism and friendliness of the employees was appreciated. I also loved the cleanliness of the facility.

Staff was extremely friendly. Massage was amazing and targeted towards my issues

Tamekia is WONDERFUL She not only asks about but she listens to my complaints of aches and pains all my trouble spots She focuses on my needs I hope to rebook with her again very soon This was my second session with her and I cant wait to see her again.

Being that I have a degree in massage therapy I thoroughly enjoyed my massage. From the receptionist to the therapist was friendly and patient.

the massage. the lady was rough and not very smooth she didnt focus on the parts that were hurting. & wasnt no soft music it was very silent I wasnt relaxed
Massage Envy
Tuscaloosa
9:00 AM
-
9:00 PM
9:00 AM
-
9:00 PM
9:00 AM
-
9:00 PM
9:00 AM
-
9:00 PM
9:00 AM
-
9:00 PM
9:00 AM
-
6:00 PM
Closed Today
Your body works overtime. Let's fix that
The demands of daily life can be super taxing on your body. That's why is pays to take care of it. With a little help from Massage Envy, we'll keep your body running smoothly. So you can run that half marathon or that full day of meetings.
Customized experiences
Personalize your sessions with services & products
Highly trained employees
Trained to meet industry-leading standards
Curated product lines
Complement your services and home care
Offers & Updates
Keep your body (and your wallet) feeling good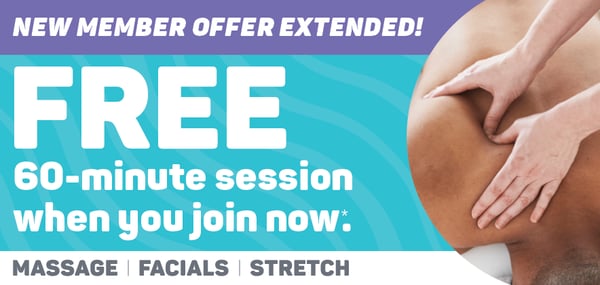 Enjoy all the benefits of routine massage, facials and stretch. Now through March 31, 2021.*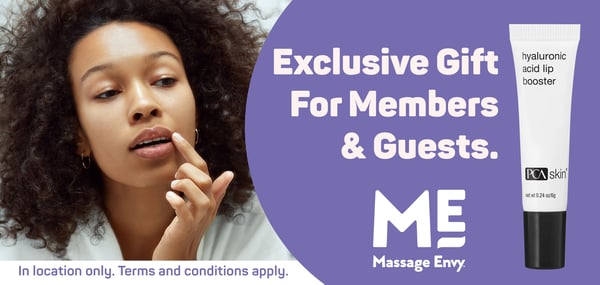 AN EXCLUSIVE GIFT FOR MEMBERS & GUESTS
Members and guests get a FREE Hyaluronic Acid Lip Booster with the purchase of $150 or more of PCA SKIN® products. Now through March 10, 2021.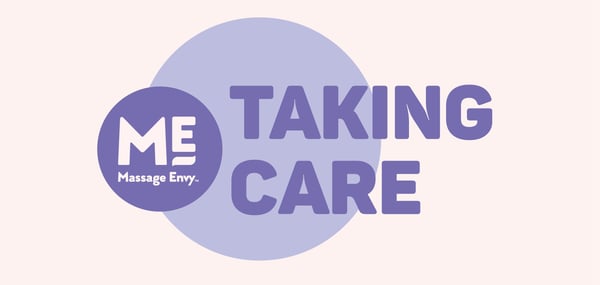 We know you're feeling the effects of stress now more than ever, which means it's even more important to make sure you feel safe and comfortable once you're back in the hands of a Massage Envy franchised location. Please contact your clinic for safety measures and requirements.
Learn more about Franchise Location Health and Safety Measures
Benefits of Massage
Whole-body benefits, a happier you
Routine massage can help with that
Massages by Massage Envy at Tuscaloosa
Customer Reviews
Really great massage therapist. Very professional staff. Cleanliness.

1/3/21

This was my first massage ever. It felt good however when I woke up this morning I was bruised in my shoulder blade areas from the massage and extremely sore. Pictures taken.

12/30/20

Bre was very helpful she explain the type of massage I needed due to my Sciatic nerve problem.I enjoyed she was informative she explain before she began each exercise. I will be coming back and referring others she hada very positive attitude. I felt a 100 better when I left. Great job Bre

12/29/20

Tameika was AMAZING. This was my first deep tissue massage and she made it very enjoyable. She was professional and very skilled. Cant wait to book another appointment with her

12/28/20

The massage was fantastic The professionalism and friendliness of the employees was appreciated. I also loved the cleanliness of the facility.

12/28/20

Staff was extremely friendly. Massage was amazing and targeted towards my issues

12/23/20

Tamekia is WONDERFUL She not only asks about but she listens to my complaints of aches and pains all my trouble spots She focuses on my needs I hope to rebook with her again very soon This was my second session with her and I cant wait to see her again.

12/22/20

Being that I have a degree in massage therapy I thoroughly enjoyed my massage. From the receptionist to the therapist was friendly and patient.

12/13/20

the massage. the lady was rough and not very smooth she didnt focus on the parts that were hurting. & wasnt no soft music it was very silent I wasnt relaxed

12/12/20
Hours
Day of the Week
Hours
Mon

9:00 AM

-

9:00 PM

Tue

9:00 AM

-

9:00 PM

Wed

9:00 AM

-

9:00 PM

Thu

9:00 AM

-

9:00 PM

Fri

9:00 AM

-

9:00 PM

Sat

9:00 AM

-

6:00 PM

Sun
Closed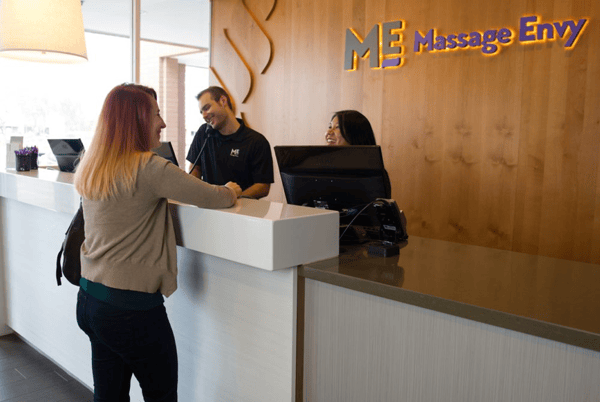 Massage Envy Careers
Join a culture of care
Massage Envy franchised location teams work together to keep clients' bodies working. Find a career that gives you everything you need to keep your career working for you.